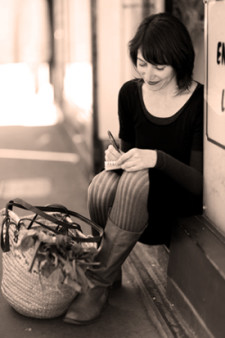 I don't speak French. Will this be a problem?
All of our programs are held in English, so there is no need to worry about feeling lost!
I'm not an experienced cook - will I be able to follow the class?
Les Petits Farcis welcomes beginning and experienced cooks. We hope you will come away with some techniques that will serve you for a lifetime, but also a newfound enthusiasm for cooking if you have not previously spent much time in the kitchen. Our main goal is to have fun together, something that is easily accomplished with good food and wine!
Can my child attend the class?
Children are welcome to participate in our cooking classes and tours. Please ask about a special rate if you are coming as a family. Because space is limited, we usually cannot accept non-participating children, though in the off season we may be able to accommodate this request.
Can you plan a gluten free/dairy free meal?
Gluten free and dairy free dishes are common in the local cuisine, so we can easily plan a meal without these ingredients. If you have a sensitivity rather than an allergy, we can also introduce you to flours that are better tolerated by those who are gluten intolerant.
I'm vegetarian, can I attend the class?
The Market tour, cooking class and lunch will include a fish or meat main course unless the entire group is vegetarian, but we are happy to provide a replacement dish for vegetarian participants. We hold a Vegetarian cooking class on Wednesday nights from 6-9pm, and the Wine and Cheese Masterclass is also suitable for vegetarians who eat dairy. Rosa is the mother of a vegetarian and has many meat-free dishes up her sleeve!
I don't like eggplants/anchovies/tomatoes/etc, will you be serving these?
As much as possible we try to accommodate individual tastes, but we may try to persuade you to try just a bite of anchovy with the sweet onions in the pissaladière – maybe you'll be converted!
Where should I park?
The easiest place to park is the Saleya parking lot underneath the Cours Saleya market. It's a good idea to allow extra time and plan your route if you are driving into Nice.
Where are the classes held?
The cooking classes are held in Rosa's cooking studio at 12 rue St-Joseph, which is in the Old Town about a five-minute walk from the Cours Saleya market. Open since September 2015, the studio has been designed especially for the cooking classes, with room for up to eight students around the granite-topped island and a table that seats ten. It's in one of the most charming streets of the Old Town, at the foot of the Château Hill.
How do I book a class?
Availability and bookings
Our events calendar shows the dates that we're available to hold classes, and our booking system shows classes that are currently open for booking. We charge a 50 percent deposit to hold your spot(s). Any class that does not reach the minimum (2 for cooking classes, 3 for the pastry classes and street food tours, and 4 for the Wine and Cheese Masterclass) will be cancelled and your deposit will be refunded.
Private Nice Street Food Tour
You can contact us to check availability for a Private Nice Street Food tour from the page itself and, once you've confirmed your date, reserve your place on it by paying your deposit.
What are your terms and conditions of cancellation?
In case of cancellations up to two weeks before a class, you will receive a refund minus a 20 euro administrative fee per person. For cancellations less than two weeks before a class, the deposit is non refundable but can be applied to a future class within a one-year time period. Les Petits Farcis cannot be responsible for circumstances beyond its control that prevent you from attending a class. Please ensure that you travel with the appropriate insurance.
If the class I want is full, do you have a waiting list?
Yes, please feel free to contact us if your preferred date is fully booked, and we will let you know if space opens up.
Can I bring my pet?
We are sorry, for hygiene reasons no animals are allowed in the kitchen.
These are a few of the most regular queries, but if you have further questions or want to reserve for a date that isn't shown on our calendar, please use our contact form to send us a message and we'll reply as soon as we can.